The Next Generation of You: Robbie Tobeck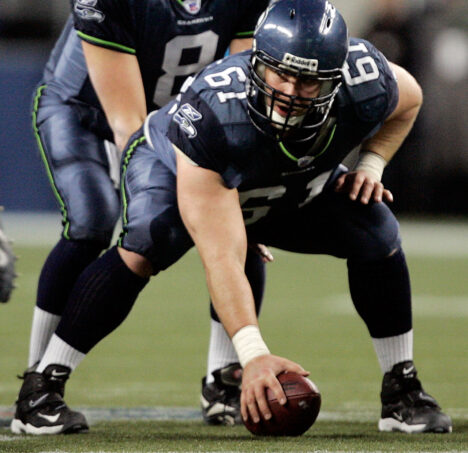 (By Jim Gehman)
Robbie Tobeck didn't beat the odds, he pummeled them.
An undrafted center, he was able to play 14 seasons – more than quadruple t he average length of a career in the NFL – with Atlanta and Seattle and in a Super Bowl with each team. 
"Part of it's just being able to stay healthy. That's a little bit of luck and a little bit of putting your time in the weight room," said Tobeck. "You look at it, for 11 years, I was a starter in the NFL. I was one of 32 in the world that got to play my position and do what I did. Those are long odds. Everyone has a dream when you're a kid, but I actually got to do it."
Soon after Tobeck had the opportunity to begin living out his dream, he began making plans for his life after football.
"I remember thinking as a rookie, 'Man, if I could just make the team and get a couple bucks in the bank,'" recalled Tobeck. "And then you make the team and you just keep trying to improve. You keep adjusting your goals, setting them higher and higher and higher. And before you know it, you've put some years together. I constantly gave thought to what I was going to be doing when I was done playing because I was always fearful that any year was going to be my last year.
"When I was looking for what that next career was going to be, I followed the good example of guys that were ahead of me. I remember Brad Edwards on the team plane coming home from away games, studying for his certified financial planner test. Young guys need to pick out a good example of a guy to emulate. And so I did that.
"I got into the financial planning field and did some internships. Insurance became a part of that financial plan for people, and I found out it's a good business. I was a lot more comfortable helping people protect what they've accumulated than I was advising them on what to do with their money. So it was just a natural progression.
"And when the opportunity came to buy Griffin MacLean (an insurance brokerage company in Bellevue, Washington) as I was retiring from the NFL, I jumped all over it. It's been a great, great business and a great career transition for me."
Having played seven seasons with the Seahawks, Tobeck's first career hasn't hurt his second career because of his name recognition in the Seattle area.
"It helps you get in the door," Tobeck said. "I was at a game this year, and I met a guy that said, 'Hey, I bought my first home two years ago and said, 'Let me call Tobeck's company because he'd never steer me wrong.' And so you can get some business like that.
"What I do like about it though, it's just like the NFL. If I want to make the team, I better take care of business. And if I want to keep my customers, if I want to earn their business, if I want to get new customers, there better be something there besides this guy once played football.
"So I need to know what I'm talking about. I need to make sure I'm servicing the clients to the level that they deserve. It's not just, hey, I played for the Seahawks and we were a great team, you need to insure with me. I wish it was that easy, but you've got to put a little work into it, as well."