A hard-hitting safety who helped the University of Florida win the national championship in 2008, Major Wright became a hard-hitting safety in the NFL after Chicago drafted him in the third round in 2010.
Plus, he had a nose for the ball. During his four seasons with the Bears, Wright had nine interceptions and made three pick six trips to the end zone. But it was one, make that two, interceptions which didn't result in touchdowns, that are his most memorable.
"I think my most fun that I had when I was in the league was when I was in Chicago in 2012," Wright said.
Testimonial
That season, we went 10-6, and I had one hell of a season. Four interceptions. One game in Dallas, I picked Romo off two times. That game was very, very, very good for me.
Testimonial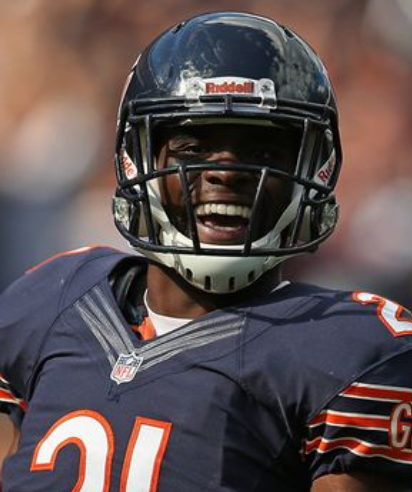 Major Wright
Wright spent seven seasons in the NFL, four with Chicago and three with Tampa Bay. Playing in 77 games with 51 starts, he totaled 331 tackles, 244 solo.
What Makes Him Most Proud of His Career?
"I think that I never gave up," Wright said. "I had numerous opportunities to just give up. Numerous obstacles that came into my life that probably should have detoured my football career. But I kept fighting. Because I wanted it. I loved it and I loved competing. Football kind of grows something in you, it grows that competitiveness in you."
Known for delivering hard hits on the field, it was after he left the game when Wright was on the receiving end. And it was a wallop. A life-changing wallop.
The Transition Hit Harder Than Major in his Prime
"When I got done playing football, things went bad for me. After being three years removed from the NFL, I ended up going completely broke. I was depressed. I almost committed suicide. And then one day, I see this homeless guy laying on the ground and I say to myself, 'I haven't done anything good for somebody lately. Let me see what I could do for him,'" Wright said.
"So I wake him up and ask, 'Hey, can I take you to get you something to eat?' I wanted to know, one, why he was in that situation. Two, that could be me potentially getting ready to sleep on this ground. And then, three, what's it feels like to have somebody walk right by you. Because that had never happened to me.
"We pick a spot and he's opening up to me. 'Major, the reason why I'm in this situation, I did 10 years in prison and when I got out, I had nobody to lean on.' That right there shook me. I'm going through what I'm going through, but it rocked me to a point because I had accumulated so many resources along my journey and never burned any bridges. So it's okay for me to reach out, But this guy has nobody to reach out to. So I asked him, 'What can I do to help you right now?' And he was like, 'Man, I'm trying to get my ID. If I get my ID, I'd be able to get a job. If I get it a job, I'd be able to provide for myself.'
"I'm like, 'Wow! All this man needs is a simple plastic ID.' So I say, 'Look, I've got a couple of dollars in my account. I'm going to give it to you on faith that you're going to do right by it.' And when I leave, my whole entire life changed. When I thought I was doing a good deed for him, he ended up doing a good deed for me."
Mr. Good Deed Tuesday Era
"When I was walking home, it felt like I was floating. It felt like God had rebirthed me. So I took it upon myself every Tuesday to go out in the community and start doing random acts of kindness because I was chasing that feeling that I had felt."
That led Wright, who makes his home in Fort Lauderdale, FL, and has a daughter, Maliyah, to start the Wright Way Foundation.
"It makes an impact in the community and to the youth in a positive way," he said. "I created Good Deed Tuesday to be able to go to the schools and create that positive impact. And all the schools, the Title I schools and schools that can't afford my curriculum, my foundation puts it into those schools free of charge."
Launched in 2002, Good Deed Tuesday is an after-school program in Gainesville, FL, meant to inspire kindness among kids. Focused on elementary students, Wright developed a comic book superhero, Mr. GDT, who gains power by being kind.
"He's on a mission to build a community to get people to understand how important it is to be kind, to care, and to share with one another," Wright said. "I created this character to have these kids look up to somebody that can lead them in the right direction.
"I've created a school curriculum where every Tuesday, these kids get to intentionally go to school and be kind to other students. It created lessons that teaches kids about empathy, gratitude, citizenship. We put them in activities to get them to understand it a lot better because now they can relate to it. They're doing something fun and impacting people in ways that change the trajectory of how they treat each other.
"I created my school curriculum for K – 5, but we're scaling. We're going to go to middle schools, high schools, and eventually we're going to have a college curriculum, as well."
Major is currently speaking to schools, teams, and corporate organizations about creating winning teams, resilience, mental health and financial literacy for minorities. He is currently living in Ft. Lauderdale, Florida. 'Major Pain: Confessions of a Smash-Mouth Safety' is his first book.