NFLPA Professional Athletes Foundation Host Second Annual 'Painting with the Pros' Event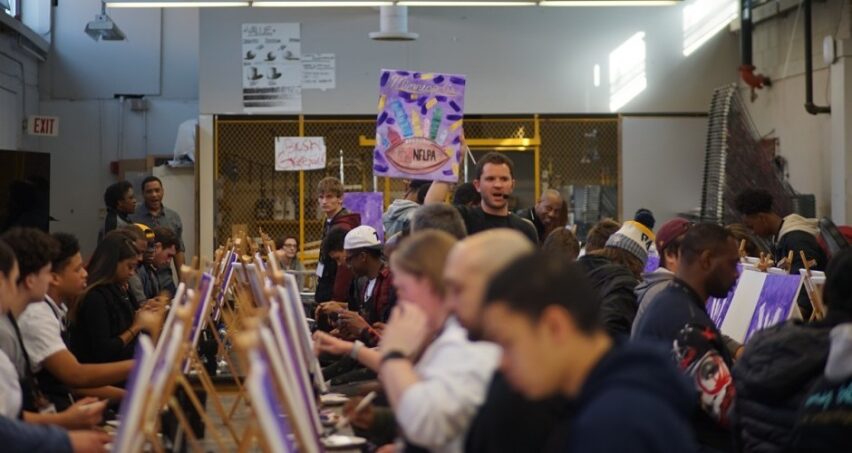 "We had so much success last year in Houston, we really thought we should do it again," said Executive Director of the PAF Andre Collins. "The PAF at the NFLPA, for many years, had a real positive outreach using our players to connect with the community."
The PFA partnered with "Painting with a Twist" to host a hour-long painting instructed class filled with people like San Francisco 49ers 2018 Walter Payton Man of the Year nominee Bradley Pinion, New Orleans Saints linebacker Craig Robertson, former NFL running back Priest Holmes, Black Ink reality TV star Katrina Jackson aka 'Kat Tat,' and many other former and current players. At the end of the event, students were able to win different prizes along with the paintings some of the players painted.
"It's a great opportunity to meet some local high school kids, interact with them and do a little painting," said Pinion. "Hopefully these kids enjoy it and it's good fellowship with the kids."
Collins said the PAF choose RAHS due to the diversity of the school and the hard work of the students. It was a great opportunity for students who live in the home state of the Super Bowl to interact with people who look like them and become successful.
"To be able to know you're apart of a event like the Super Bowl and participate and paint with former players, current players, it's a fun thing," said Principal of RAHS Christina Hester. "For us, it's an honor for them to be in our building and see Roseville."
The students at RAHS are part of a large group of great people that are the future of the world. Senior Manager for the Former Player Services at the NFLPA, Lorenzo Kaufman, says their goal is to connect players back to the community they are from or other communities to try to inspire the next generation of athletes and entrepreneurs.
"For the kids, it's showing them that 'Hey, current and former NFL players are real people," said Collins on trying to motivate the students. "Hopefully it inspires the kids to just do their best in whatever they are going to do."